When I taught fifth grade my absolute favorite unit to teach was physical and chemical changes!  While chemistry was never easy to get students to understand well, I loved the reactions students had when we had… well, reactions in the classroom.
When I taught physical changes and chemical changes we always taught students to look for certain signs that would indicate if it was a physical change or a chemical change.  For instance, a physical change could be reversible and did not create a new substance.  If I took an ice cube and melted it, I could reverse the process and turn my water back into ice.  Even further, no matter what state the water was in, it was always just water – Good Ole' H2O!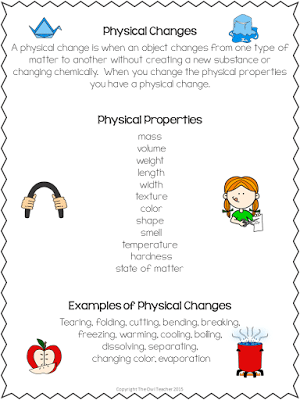 With chemical changes though, it always produced a new substance.  Students would watch for key signs like bubbles (or gas being released), or an increase in temperature (See the chart below for more signs.  You can find these charts and experiments in my newest complete science unit, Physical and Chemical Changes
here
.).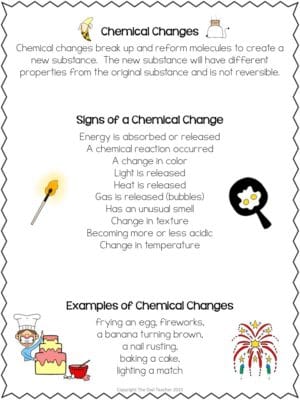 One experiment that appears to be a chemical change but is in fact a physical change is melting a Styrofoam cup!  No, not catch it on fire and burn all kinds of toxins into the air.  (Anyone else remember all that from the 90's with McDonald's removing all their Styrofoam containers?).  No, I melt it with chemicals.  Safe chemicals!  (It is not harmful to touch.  At most it will dry the hands out.  However be aware of the strong smell.)
To start, I break my students up into groups and  provide each group with an aluminum pan and a plastic cup with a small amount of acetone in it.  Acetone is the same thing that we use on our nails to remove nail polish.  However, I like to use the straight product, so I go over to the paint section (or in some stores the hardware section) and grab it there.  Then give each group one Styrofoam cup.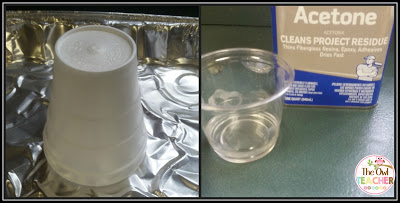 Together we review all the signs to look for with physical and chemical changes.  Then I ask the students to predict what they think will occur when they pour this liquid on the Styrofoam cup.  After discussing it together, I then have the students pour it on the cup.  The reaction is somewhat fast, so they have to be ready!
As you pour the acetone on the cup, you see it start to bubble and melt very quickly.  While it appears to be a chemical change because it produces bubbles, it's actually the trapped air being released out of the Styrofoam.  Theoretically, if you were to blow air back into the cup, it could be reversible.  I do allow my students to touch it.  They squeeze the acetone out of the Styrofoam and then I let them mold it into whatever shape they desire.  Over time the rest of the acetone evaporates out of it and it becomes a bit more firm and solid.  The kids always enjoy this activity and always want to do it over and over!
I hope this lesson not only excites you, but also "changes" your thoughts about physical science!
Happy Melting!
Save