Have you ever thought you had done something and then realized, "whoops!"  and have to quickly do it?  Well, that is where I am at this week.  I for some reason thought I had already written this blog post.  I guess I hadn't.  So here it is… a bit late.  I'm sure you forgive me, right?  🙂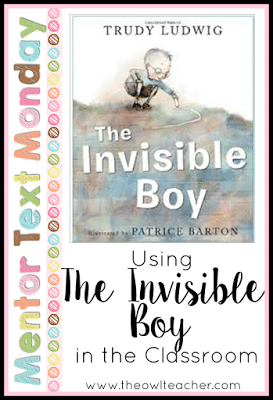 This week, my book is The Invisible Boy by Trudy Ludwig.  I don't know about you, but it sure seems that each year I teach, the kids are becoming more and more ruthless with one another.  Why do they treat one another so poorly?  I know my generation with its ratted hair-sprayed hair, and stone washed, rolled up jeans weren't exactly saints, but I'm pretty sure the bullying has gotten worse!  I guess that is why I am always looking for books that are combating that.  Anything that will provide an opportunity to explore empathy and teach kindness.
This story begins by introducing us to Brian, a boy who feels like he's invisible- and justifiably so.  His teacher often doesn't notice him because of all the students who have behavioral issues, he is picked last or not at all during recess games, and overhears all the fun others had a party he wasn't invited to.  Then one day a new student, Justin, arrives.  He is instantly being evaluated by the class to determine if he is "cool" or not.  During lunch one day, Justin ate with chopsticks and was laughed at.  Brian wondered which was worse, being laughed at or being invisible.  Brian decides to reach out to Justin and they become friends.  When a teacher assigns a special project, Brian tries to work with Justin, but another student snatches him up.  Justin suggests they work together as a group of three.  Through this process that other student realizes Brian is actually pretty "cool" and "maybe, just maybe [he's] not so invisible after all."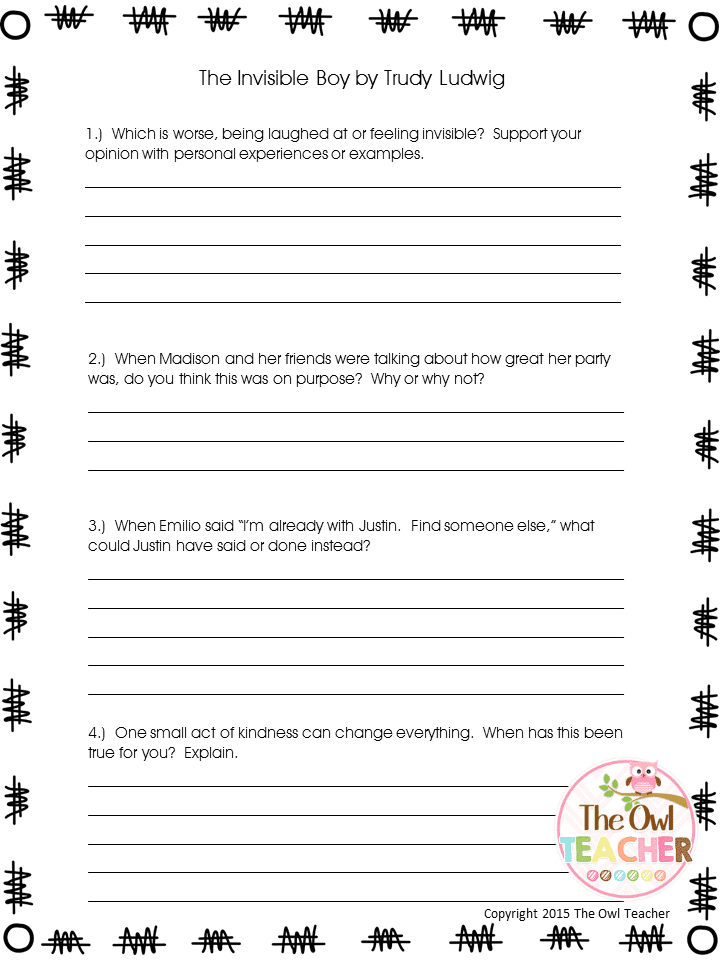 As previously stated, it would definitely be a good book to have students practice empathy and discuss how we should be treating others.  I believe it could easily be used as a writing piece (click on the picture above to download).  The theme that one small act of kindness can change everything, would create discussion and can be an open to further projects, such as random acts of kindness and character development/classroom citizenship.  Further, students could discuss (explore?) how else they could have handled some of the situations in the book.
Save