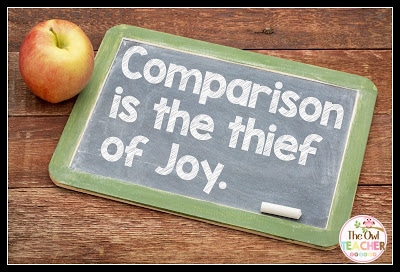 As many of you know I am always striving to improve myself.  I was recently reading some tips on how to improve as a TpT Seller and as a blogger.  One of the things I had read many times was to check out the top sellers stores and determine what they are doing that you aren't.  Of course, that ultimately led to the COMPARISON BUG and… DISCOURAGEMENT.
How many times have you done that?  You know, take a peek at the products from someone you follow or admire and before you know it you are thinking thoughts such as, "I'm not creative" or "I'll never be that good"?  I even began thinking to myself that everything has already been done and that I had no new ideas.  Ultimately, I was at the point where I just wanted to give up already!
I started talking to some other blogger friends and they were very encouraging!  What I really found interesting (and hence, the reason for this blog post) was that even some of my friends themselves feel this way from time to time.  I thought that perhaps many people who follow me are bloggers or teacher pay teacher sellers and would benefit from all the inspiration I received.  So bookmark this page, save this post, or pin it so that you can come back to it anytime you are feeling discouraged, or have that darn comparison bug!  I'm sure I'll be back at some point to reread my own post too!
One of my blogger friends (D.W. Wilson) brought up a very good point to help encourage me.  First, she said that there are many restaurants out there that sell hamburgers.  For instance, there is McDonalds, Wendys, and Burger King.  While they all sell hamburgers, each of them are made differently.  It's those differences that make them who they are.  At a first glance, they all appear the same- but think about it- are they?  Wendy's burgers are square, Burger King flame broils theirs.  Even the onions are different between McDonalds and the other two.  Isn't that really how it is as sellers on TpT or as bloggers?  At first, we may feel that we are all the same, but we all bring something unique that makes us just a bit different.
Continuing with the metaphor above, we all have different tastes- and even that varies from time to time.  Sometimes I'm in the mood for a Wendy's burger.  Sometimes, I'm not.  Some people like one restaurant over another, while some like all three.  I can think of many times that I have purchased multiple products on a subject or topic on TpT and have picked lessons in each to teach.  I often will purchase a variety of products, then use them to pick and choose which I like best to lesson plan.
Additionally, each person who is "ahead" of us – or well known, in the world of blogging and TpT have all started exactly where we are today.  They had to work hard to get where they are just as we will too.  In 3-4 years we may very well be at their spot and having others comparing to us.  My point (inspired by many blogger friends) is that we shouldn't discount their journey.  This entire journey is a "turtle's journey" and as long as we are being true to ourselves and doing the best we can, that's all that matters.  Growing up as a kid, I frequently remember my mom saying, "Rome wasn't built in a day" and neither will our store, blogs, or any other dreams we have.  They all take time – and determination.
In the meantime while you are working to the top, find your niche and personal style.  Be passionate about what you love.  Don't worry about others – just do what you would do if it was for your kiddos.  And most importantly, find the positive in your journey.  Much like watching your children grow up, before you know it time will pass and you'll wonder where time went.
There is only one of you- no one else is like you!