Shades of what?!?!   Right, shades of meaning… hmmm.  What is that?  I mean, is that like the various ways we can say no and yet have a totally different meaning each time?  For instance, I can shout no in a way that indicates my toddler is about to fall off the bed, or I could shout no indicating "do not even think about touching that very expensive item."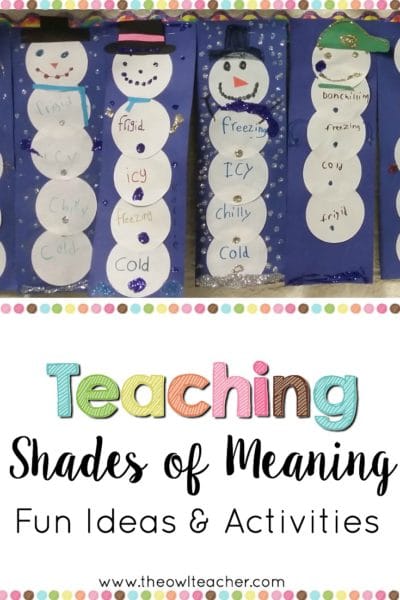 Perhaps, it is the no that follows with giggles when someone asks if you are planning something that is a secret.  Either way, my point is I think I sat there for the longest time looking at that common core standard scratching my head and feeling quite dumb.  Then I decided to Google it.  I love Google.  It's my go-to friend.  Anything and everything you want and need can be found on Google.
It didn't take me long to go, oh, ok!  I get it now.  However, teaching it was another story.  I had to think hard about how I could help students completely understand.
I started by first teaching synonyms and antonyms.  That was easy going.  After my students really had a good understanding of synonyms, we began taking those word lists and really looked at them.  We discussed how those words that are simple and most likely used every day in our language were considered the weaker words, such as sad.  Then we discussed that those really cool, making you sound extremely smart words were most likely the strong words.  We added a little point of view… which word would the president most likely use?  I wrote the various synonyms on sentence strips and had students work in groups to sort them from the weakest to the strongest.  Of course, the discussion piece was the most important and it was interesting to hear everyone's reasoning for why they chose a particular word's placement.  (Higher order thinking!! Whoo-Hoo!)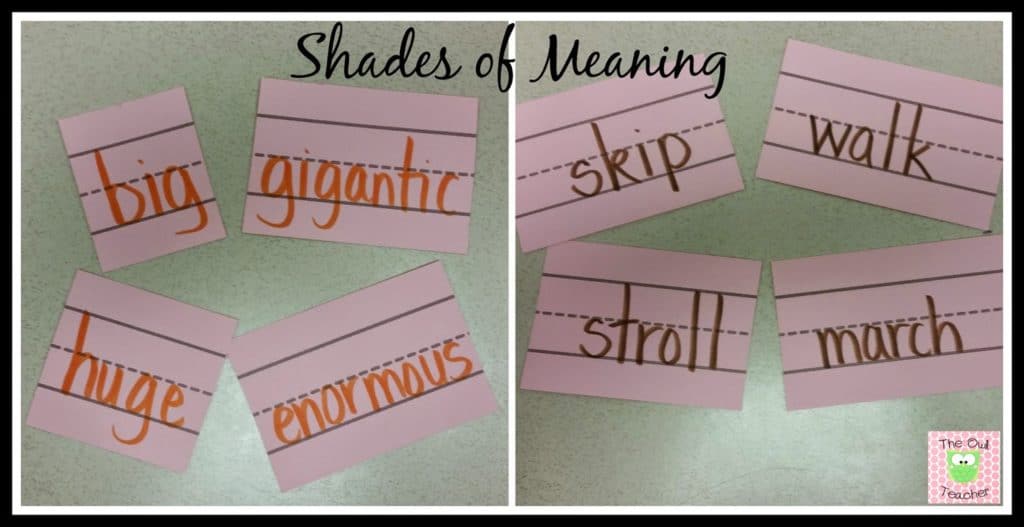 On another day, I had students partner up and draw a word from a basket.  Together they had to practice utilizing the thesaurus and look up synonyms.  They then wrote their synonyms on a Popsicle stick and together discussed the order they felt they went in from weakest to strongest.  Then they glued string on it and created a shades of meaning ladder.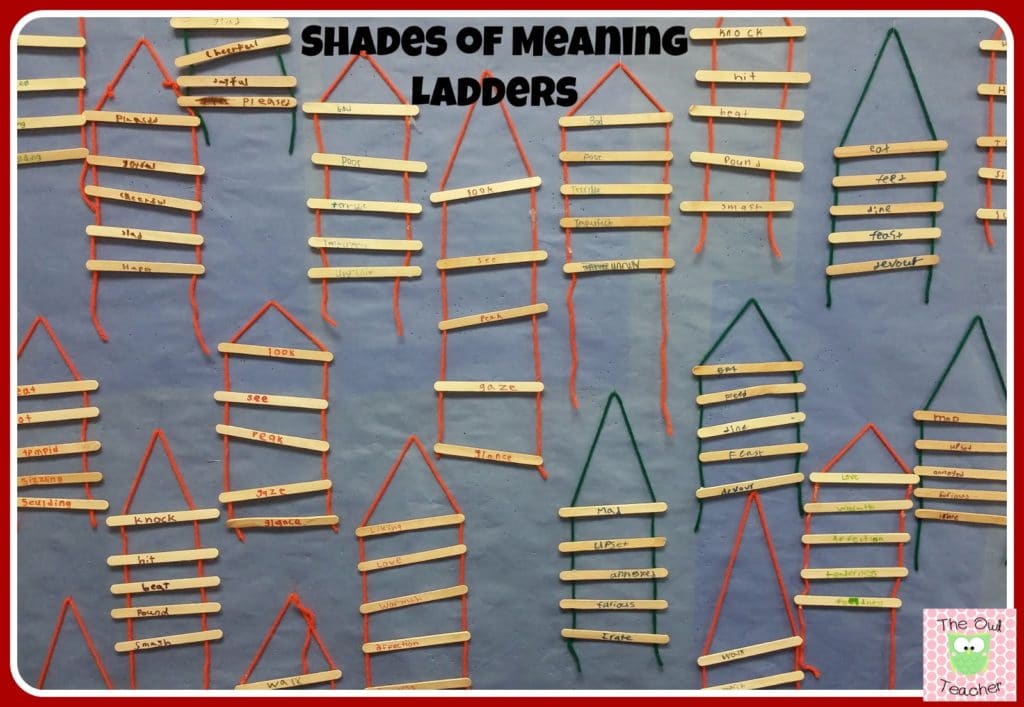 The fun part came when we created our shades of meaning snowmen.  I placed on the board 6-7 words for cold.  I provided each student with 4 white circles and an additional one for just the head.  Students had to use the word cold, and then they got to choose the other 3 words.  They wrote one on each snowball and then ordered them from weakest on the bottom to the strongest on top.  After gluing them down, they decorated their snowmen.  It became a glitter mess, but it was fun and they are just so adorable.

My little ones definitely grasped the concept of shades of meaning and had fun while doing so.  Even more importantly, I loved that they were exposed to more vocabulary words!
Happy Word Hunting.
Save