This week for my Mentor Text Monday, I want to tell you about a book called Hurricane.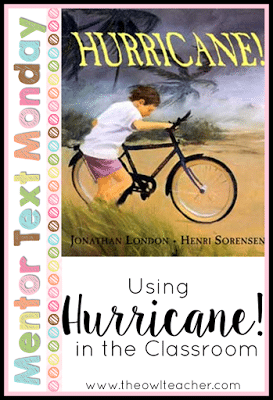 I'm not referring to the nonfiction text by Seymour Simon, but instead a fictional text written by Jonathon London.  This book talks through the experience of one young boy and his family as they face the danger of a hurricane that bears down on their town.
There are so many great uses for this book in the classroom.  This week in my classroom, we have been exploring figurative language.  One of the things that I have taught my students (thanks to my colleague, Ms. Parker, for the idea) is that every time they hear a simile in a story they are to create an S motion in the air and every time they hear a metaphor, they would make an M motion in the air.  This is a quick assessment of my students as I'm reading and it brings attention to the others.  Anyway, this book really gets the students motioning for similes.  But that is not the main use of it for figurative language.  Oh, no!
This book is just packed full of personification!  For instance…
*…fists of wind pounded me, punching me sideways…
*The wind ripped a shutter off…
*The palm trees bent and thrashed a wild dance…
*…lightning scribbled on the dark clouds…
When I used it for teaching personification, I had my students list the sentence with the figurative language and then tell what makes it human like and then the actual meaning.
This book is also great not only for teaching sequencing, and plot, but also for teaching climax, as there is definitely a spot in the book where you can just visualize the rising action, the climax, and the falling action.  Students could easily make connections to the theme in the story and to really meet those common core standards, you could then read the nonfiction version written by Seymour Simon titled Hurricane and compare the two texts.  As you read the fiction text, students could write questions they have down and then read the nonfiction text to search for the answers.
So what books do you like to use to teach personification?
Happy Reading!