This week's Mentor Text Monday is with Sandra Markle's book, What if you had Animal Hair!?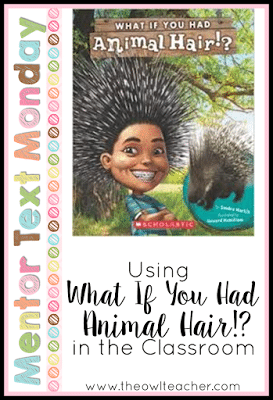 It is a nonfiction book that easily draws the interest of students through its wonderfully illustrated pictures and intriguing facts.  This text could be a great introduction to adaptations in animals, as it focuses on why animals have different hair types and how it helps them survive.  The book briefly explores a variety of animals and concludes with human hair.  Near the end of the text, it explores how hair grows and how to take care of hair.
Sandra Markle also has written similar texts such as What if you had Animal Feet!? and What if you had Animal Teeth!?  All of these could easily be used for the scientific exploration of adaptations.  Further, it could be used as a springboard in writing.  Have students decide which animal's hair they would like to have and write an opinion piece explaining why.  I also think it would be fun to have students research animals and create a whole class version through another characteristic- instead of teeth, feet, and/or hair, why not explore noses…
I love when kids can have fun (and learn secretly).
Happy Writing–