My Mentor Text this Mentor Text Monday is:  The Table Where Rich People Sit by Byrd Baylor.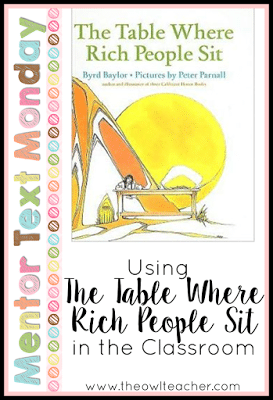 In this picture book, a girl feels that her family is not rich enough and needs to change some things so that they can be richer.  However, her parents point out to her that they are indeed rich.
This book is great for teaching not only character change, but also theme.  I have also discussed with students the different shades of meaning that the word rich has.  Students will need to synthesize how this family is truly rich.  Finally, I was able to model making connections, as I remember as a child telling my parents the same thing.  The only difference was my parents didn't sit me down and show me all the riches in my life … well not directly.  I just heard, "Money doesn't grow on trees."  As I grew up, I realized that there was way more things in life valuable than money or material things.
There you have it!  So what is your favorite book to use as a mentor text?