There he goes again.  Tap! Tap! Tap!  He's tapping his pencil, now he's slowly meandering around the room (much like Billy from Family Circus), and let's definitely not forget the chewed up eraser pieces he's throwing around the room thinking you aren't noticing.  Or perhaps it's the child who just loves and loves, and LOVES to talk—just at the wrong time!  These are those Hot Button Kids!  We all have them.  They push our buttons nearly every day.  They mean well, but they can quickly turn your smile upside down.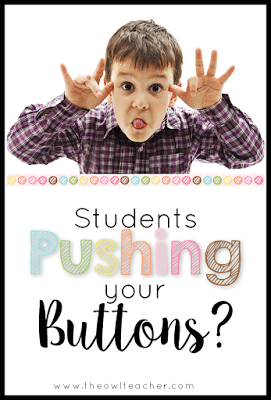 What's the best way to connect with these sweet darlings?  Remember to RESPECT.  I know, you are thinking, wait a minute here!  You respect your kids, they may be the ones needing to remember respect.  I hear ya!  But really, it's just an acronym or is it an acrostic?  Shouldn't I know this?  Anyway, here it is: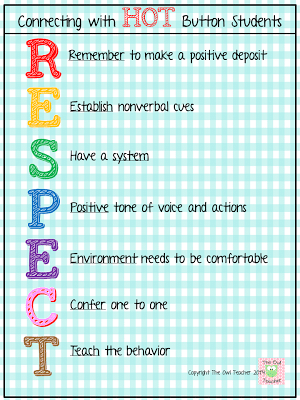 The R means to remember to make a positive deposit.  You can't just withdraw without also making deposits.  This can easily be done by greeting your students at the door each day, or even be done by giving one of the three H's at the end of the day- Hug, High Five, or Handshake.  Try to spend a few moments each day with each student.  This makes a huge impact.
The E stands for establishing nonverbal cues.  Consider what methods would work with the child to assist in reminding him or her of what behaviors are acceptable.  Sometimes just moving in the vicinity of the student is enough, but other times you have to agree together on a cue such as a slight tap on the desk, or a tug at your ear.  However, noting the positive deposits listed above, have cues for excellent behavior, such as flashing a gold card when the student is doing well.
Oh, the S.  System.  We all have systems in place.  But this, it goes beyond the typical behavior chart that all students adhere to.  Instead, it's referring to the intervention data collections.  Try noticing good behavior every 15 minutes or have a positive notice chart.  Something that breaks it down by hours and helps you and the student notice all the good he or she is doing.  Positive deposits.
The P is all about your voice and actions.  We need to be positive when we speak.  We must smile or at least give a half smile.  Fake it if need be.  We need the child to feel that we are happy to be there and want to be there for him or her.  There is nothing worse for a child then feeling like their own teacher does not like him or her.
Another E.  Environment.  Think back to your school days.  Which classrooms did you enjoy the most?  The ones where the environment was inviting, comfortable, and relaxing.  Sure, there was rules, but it wasn't walking the line, life or death.
The C represents conferring.  We confer in reading, writing, and math.  We should confer with behaviors too.  It gives us the opportunity to look the child in the eye, one-on-one and really meet those individual needs.
And lastly, the T equals, teaching the behaviors.  Every behavior is motivated by something.  It may be a defense mechanism.  Perhaps it's for attention.  Either way, it is our job to get down to the nitty gritty and determine what's really going on.  What is it this child needs?  How can we teach it?  How can we model it?
While I know there are other variables that play into our daily interactions, it's important to remember RESPECT.  At the very least, it'll make that day just a little easier.