One of my favorite review games in the classroom is called Heart Breaker.  I don't know where I got the idea from (therefore, honestly it's not mine and I don't know who to give credit to) – but I've been using this idea for years!  Despite appearances, it's not a Valentine's Day game.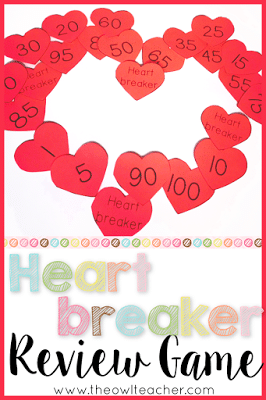 How this game works

To begin – collect several questions covering the content you want to review.  This could be in the form of a study guide, an actual test, questions at the end of a chapter, questions students created, or even task cards.
Have students break into groups or teams.  Decide which team will go first and then read the first question.  If that team gets it right, you draw a heart from a mixed up stack (or have students draw them).  On each heart is a number value.  That's how many points they earn for getting it correct.  However, if they draw the "Heart Breaker" heart, their points are cut in half!  If they are incorrect, then it's on to the next team.  It's a fun way to review activities and it's always a heart break when you draw that heart!
Since I use this regularly in my classroom, I already have it created!  Therefore, save some time and download it
here
.  Print on red or pink card stock, cut out, laminate, and you're ready to go!
Happy Teaching (and Reviewing)!
Save