Do you love the Frayer Model, but your kids are getting a bit bored with it?  Why not mix things up a bit.  Turn it into a foldable.  You'll be amazed by how easy it can be.
Step 2– While already folded, fold it again in a hamburger fold.  If you were to open it right now, you would have your paper in quarters or four boxes.
Step 3– Leave the paper folded.  Take the corner that is folded but not an edge and fold that corner over just a little bit.  The bigger the fold, the bigger the center box will be.
Step 4– Unfold.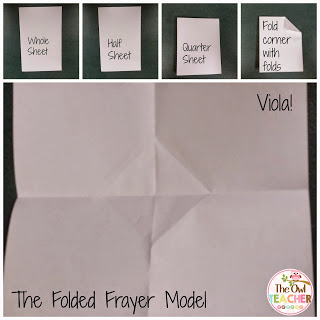 Voila!  A quick foldable in the Frayer Model!