Posters?  Does anyone use those anymore?  I remember once cruising the teacher store catalog looking at posters, posters, and more posters.  Oh the variety of posters that highlighted math concepts, reading concepts, and science concepts.  They were in the catalog next to the cutesy bulletin board sets.  Now, it seems everywhere you look teachers are utilizing anchor charts rather than posters.  I'm no exception.  But I'm not willing to give up my trusty ole' partners in crime just yet.
While sorting through my room this past weekend to prepare for the upcoming school year (Yikes!  It's approaching.  I didn't even get close to my one trillion things to do list!) I kept tripping over all these long, laminated posters.  I even had some rolled up just lying around.  Oh, but I hate the rolled up posters.  They eventually become rolled up rectangles, not nice circles.  Then when you unroll them, they end up with all these folds and creases and, well, they just look horrible!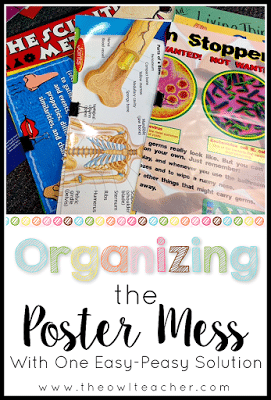 So I was looking at these posters, admiring the good ol' days, and wondering what to do with these things.  This was the organization I came up with…  for now.
 Step One: 
Admire all the posters you have.  Sort them into categories- all reading posters together, all math together, all science together, so on.  Look them over good and see if you really need them.  If not, toss it or give it to the new kid on the block.
Step Two:
After sorting them by subject area, go through and sort them by topic, units, or whatever your preference may be.  You can even sort them by colors (though that may be tough to locate later!)
Step Three:
Take a sorted set, such as all your Government posters and clip them together with these incredibly awesome black binder clips.  They come in a variety of sizes so you can match the thickness of all your posters (or very few).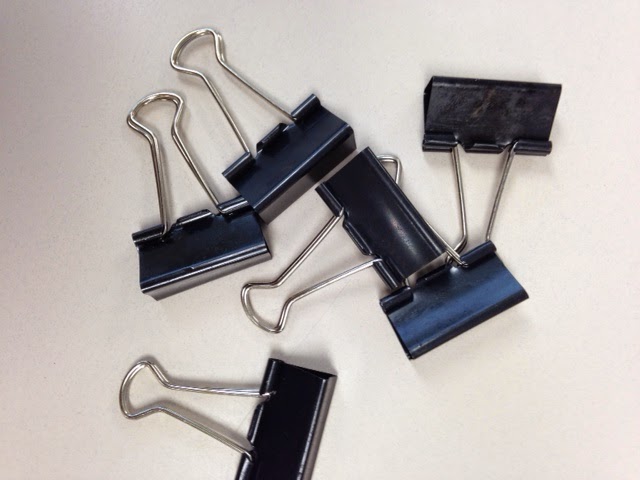 Step Four:

Label the end of the black binder clip with the name of your poster set using a stick on label, duct tape, washi tape, or the super fancy masking tape (as I did).  Or, if you have a ton of time and want to jazz it up a bit, go for the fancy colorful printed paper.
(Teachers and time?  Hahahaha!)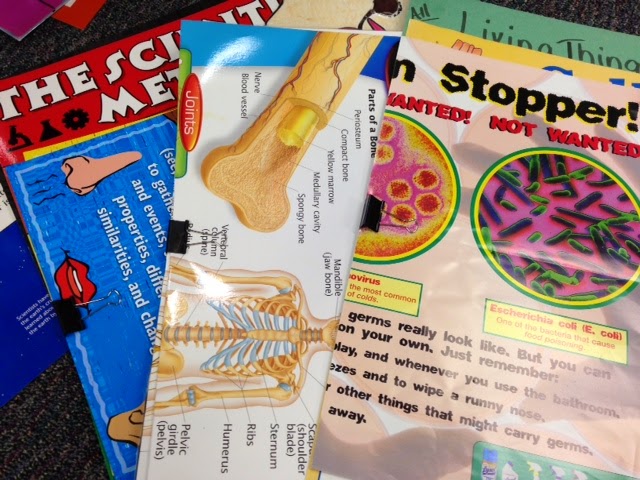 Step Five:
Repeat with other sets.  Place in the cupboard, drawers, etc.
If I come up with something better and creative, I'll let you know.  Until then…  simple and good enough, right?
Happy Teaching!