I really loved Donalyn Miller's book, The Book Whisperer when it came out a while back, so you can imagine my excitement when she recently released a new book titled, Reading in the Wild.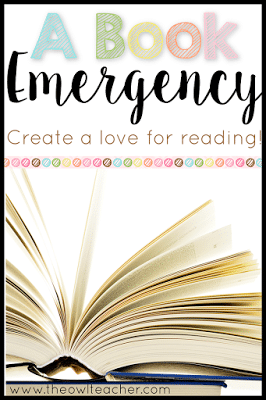 Something she mentioned, which I imagine we can all agree with, is that kids today are just too plugged in.  Internet, video games, iPod and iPad, apps, you name it!  This leaves too little for the imagination and only makes our jobs more challenging.  In her book, she asks her students if they were prepared for a book emergency.  I thought how creative could we be being all dramatic, having sirens going off, at a low hum ask the kids "Are YOU prepared?"
I could see the kids asking "What is a book emergency?"  If you have a medical emergency- you are in need of medical care.  If you have a food emergency (as my children seem to always think they do), then you are in need of food.  If you have a book emergency– yes, you guessed it!  You NEED books- pronto!  STAT!
I purposely buy large, over-sized purses.  No, not so my husband and kids can continuously ask me to carry their stuff in it (though that happens more times than I can count), but rather because I am always carrying around a book in my purse!  In fact, sometimes, it's more than one!  I have these ambitions that I will get way beyond the actual amount of reading a person can consume in a day.  If only there was a few more hours in the day…
Haven't you ever been somewhere longer than you anticipated?  How do we spend that time?  Do we just stare off into space, counting the minutes we are waiting, waiting, and still waiting?  Perhaps you pull out your phone and play a good ole game of Candy Crush– and who doesn't?  It's highly addicting!
But even more addicting and important, is getting those kids to see that that time can be used better.  This is an opportunity to get lost in a book- to become the character, to live another life, to attend to another world beyond our imaginations.
Have students list places or moments when they were stuck waiting- such as over the weekend when they just had to watch their little sister's dance recital, when the car broke down, dad was pumping gas, even while waiting for their game system to do it's monthly update!  Discuss the opportunities to read during these times.  After all, it's a book emergency!